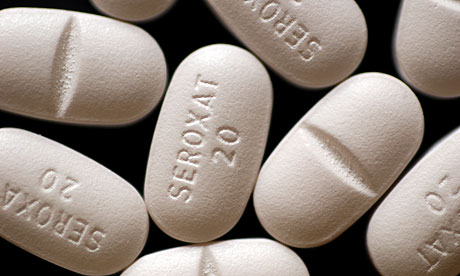 A strange case from 2003.
Mark Douglas-Hamilton stood accused of armed robbery and theft and was facing a prison sentence.
Miraculously, just before the trial, all charges were dropped and Douglas-Hamilton walked free.
The Crown Prosecution never gave any reason for the case being dropped but ten years on Mark Douglas-Hamilton is now starting to ask questions regarding the evidence that was the deal breaker.
An expert witness, Dr David Taylor, then working as head of pharmacology at the British psychiatric hospital, Maudsley, had prepared a report for the defence, passed to the CPS, which concluded that the effects of Seroxat could have contributed to his behaviour.
Upon seeing this, it is alleged by Douglas-Hamilton, Crown Prosecution decided to throw the case out.
Furthermore, Douglas-Hamilton, who is now asking questions via his Twitter account, is alleging that lawyers for GlaxoSmithKline approached his defence lawyer who was told to keep his client quiet.
Douglas-Hamilton told me in a private conversation that his medical records seem to have gone missing and he cannot get access to any of the evidence provided in court. His defence lawyer is, according to Douglas-Hamilton, not returning his calls.
Back story:
Two days after stopping Seroxat, Douglas-Hamilton used a pair of wire cutters to hold up a garage in Oxford where he walked away with a packet of cigarettes. A CCTV recording of the event showed his bizarre behaviour, where he joked with customers. Two weeks later, the theatre stage manager stole some CDs from a record shop. Douglas-Hamilton says he committed the acts, but claims his personality and behaviour were completely altered by the withdrawal effects of Seroxat. [
Source
]
Why did the Crown Prosecution pull the case, up until the point of Dr David Taylor's evidence they must have thought they had a good case, right? CCTV footage, witnesses, they had Douglas-Hamilton bang to rights, as they say. Why was Dr Taylor's evidence deemed so detrimental to the Crown's case, more importantly what
was
that evidence and why has Douglas-Hamilton never been allowed access to it?
Did GlaxoSmithKline's lawyers really tell Douglas-Hamilton's defence lawyer to tell his client to keep quiet?
Why did the Crown Prosecution offer no explanation as to why they dropped all charges?
Douglas-Hamilton was due to plead not guilty using non-insane automatism as his defence. The defence of non-insane automatism exists where a person commits a crime in circumstances where their actions can be said to be involuntary. A finding of non-insane automatism may also exist where the defendant is not conscious of their actions due to an external factor often as a result of medication. [1]
A spokeswoman for GlaxoSmithKline said, at the time:
"Violence and aggression are a feature of anxiety and depression disorders. Seroxat will reduce levels of these, and neither violence or aggression are withdrawal symptoms."
She has to be kidding, right?
A survey carried out by the mental health charity MIND, in collaboration with bbc TV's Panorama, found that 97% of respondents knew of someone who had experienced unwanted or uncomfortable reactions to Seroxat [Paxil]. These included: reduced sexual desire, sleep problems, fatigue, irritability and sweating. One in five reported violent behaviour. Half who had experienced a reaction had feelings of self harm or suicide and more than four out of five experienced withdrawal problems. [2]
Seroxat is known as Paxil in the United States and Canada. Let's just take a look at some of the media reporting of bizarre behaviour whilst on or tapering from Seroxat:
First off, lets take a look at some of the bizarre behaviour of children and adolescents whilst on Seroxat [Paxil]
1996 -
11 Year Old Goes On Robbery & Shooting Spree
- Dr. Ann Blake Tracy, director in the
International Coalition for Drug Awareness
, worked with this young boy's attorney for some time because he was on
Paxil
at the time of this incident and was obviously having toxic reactions to the drug. This was manifested by the flu-like symptoms he had at school before his parents picked him up and put him into bed at home. Yet another case of someone going to bed just before getting up to act out a dream or nightmare under the influence of these drugs. [
Source
]
2001 -
Young Man Holds Three People Hostage in Duke University President's Office
- Paragraph 12 reads:
"Some of the evidence presented Thursday provided a glimpse of Malone's personality. In his day planner were two index cards, one quoting lines from "Macbeth" and another that said, "For evil to prevail, good men have only to do nothing." In the black backpack he carried, which contained a box of 32 bullets, he also had a paperback copy of "The Odyssey," a manila envelope, some toiletries and a bottle of Paxil, a prescription antidepressant."
[Source]
2002 -
15 Year Old Girl Kills 6 Year Old Brother
- Paragraph 14 reads:
"Mr. Schwartz said he thinks his niece, who has a history of criminal behavior including setting fires, may have been suffering an adverse reaction to being taken off the prescription anti-depressant Paxil at the time of the killing".
[
Source
]
2002 -
Unusual Personality Change on Paxil Caused 15 Year Old to Set Fires inside High School
- Paragraphs 1 reads:
"The lawyer for the 15-year-old Howell High School freshman accused of setting fire to the high school on Monday said the anti-depressant prescription drug Paxil was to blame."
Paragraphs 3 & 4 read:
"Plunkett said the boy's parents, who were in Juvenile Court on Thursday for the hearing, took him to a psychiatrist who prescribed the drug less than two weeks before a series of fires tore through the high school, closing classes for two days and causing an estimated $500,000 in damage."
"The drug changed him,"
Plunkett said.
"He indicated it made him feel different."
[
Source
]
2004 -
Student Shoots Teacher in Leg at School
- Paragraph 11 reads [in part]:
"At the time, Romano was taking the anti-depressant medication Paxil and had recently left Four Winds Psychiatric Center in Saratoga Springs."
[
Source
]
Bizarre adult behaviour whilst on Seroxat [Paxil]
2001 -
Jury Finds Paxil Was Cause of Murder-Suicide
- Donald Schell was taking a Paxil when he killed his wife, daughter and granddaughter, then turned the gun on himself. His son-in-law sued GlaxoSmithKline - and won £5m. [
Source
]
2002 -
'Santa' who bungled bank robbery says anti-depressant drug made him do it
- Next to last paragraph reads:
"Chevrier told a sentencing hearing that he committed the offence after he experienced a marked change in character when he took extra doses of Paxil, a commonly prescribed anti-depressant."
[
Source
]
2006 -
Not Guilty by Reason of Paxil Induced Insanity
- Paragraphs 11 & 12 read:
"The argument was bolstered by testimony from three psychiatrists, including the psychiatric research director of the University of South Florida medical school, that Stewart probably knew his actions were wrong but was unable to control them.
"Family members and a neighbor said Stewart changed significantly after taking Paxil."
[
Source
]
2008 -
Father Who Murdered Son Four Years Ago Campaigns Against SSRIs
- Paragraphs 1 & 2 read:
"He popped his antidepressants like candy and believes Paxil made him kill his son."
[
Source
]
2010 -
Famous Singer For Blue October Rock Band Has Strange Episode: Only Drug Involved Is Paxil
- Paragraphs two and three read:
"During a series of phone interviews, the frontman for the Texas rock band Blue October was asked repeatedly about blacking out in an airplane on the tarmac in Minneapolis."
"Supposedly, I was waving my hands,' said Furstenfeld, who has no memory of the outburst, "saying I was going to hurt someone and hurt myself'."
Paragraph five reads:
"During the episode, he wasn't under the influence of any substance except the prescription antidepressant Paxil, he said."
[
Source
]
There are literally hundreds of stories about bizarre behaviour on Seroxat and other SSRis on the the superb
SSRi Stories database
.
What bothers me most about these sort of cases is the media tend to miss out on the link between the incident and antidepressant, claiming instead that the person was being treated for some form of mental illness.
I, myself, experienced bizarre behaviour when going cold turkey on Seroxat. It's all been documented in my book,
The evidence, however, is clear: the Seroxat scandal.
Meantime, Marc Douglas-Hamilton continues to push for answers and for those elusive documents from the trial that appear to have vanished into thin air.
Bob Fiddaman.
[1] Defence of Non-Insane Automatism in Criminal Law - e-law
[2] Dark secrets lurking in the drugs cabinet - The Observer 2004